EAU DE PARIS (WATER OF PARIS) 
Giving value to Paris's tap water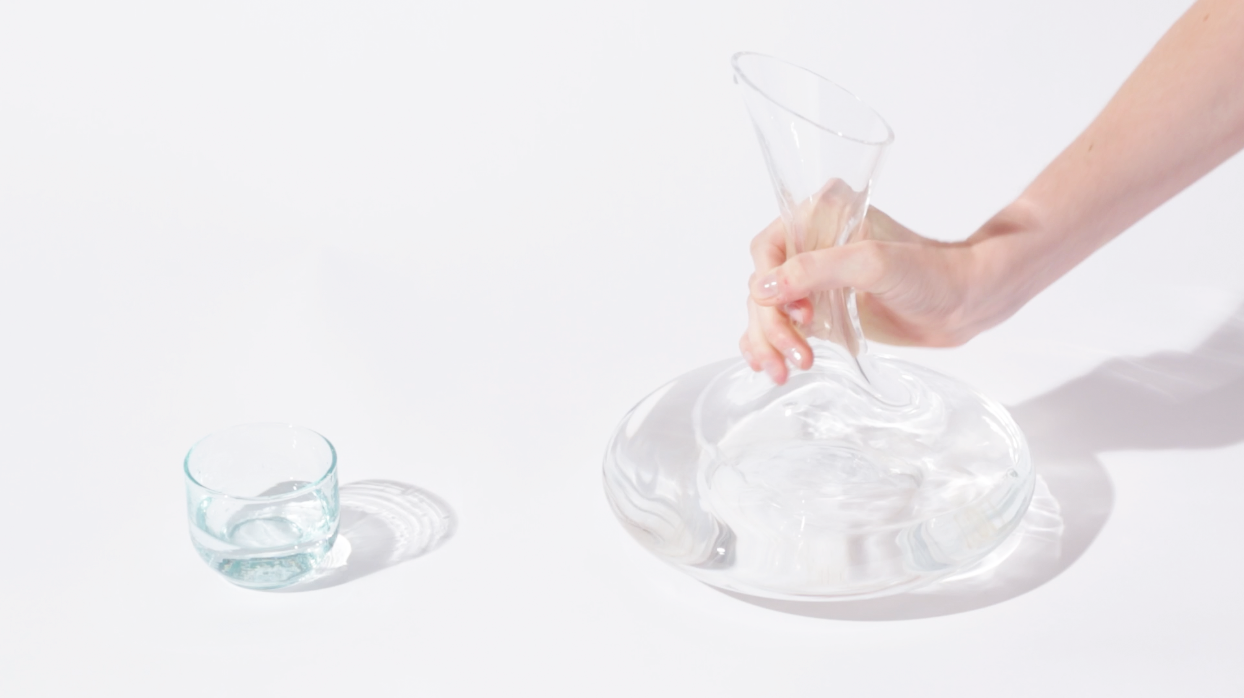 Despite an excellent quality water, 9.3 billion liters of bottled water are consumed every year 
in France. Tap water of Paris is even one of the best in the world, but only 39% of Parisians drink 
it daily. Since rational arguments are not enough, it is using codes of art and fashion world, that the 
communication campaign and the new identity of Eau de Paris will give Parisians the desire 
to open their tap again. A simple gesture for a major ecologic step forward.
-
Malgré une eau d'excellente qualité, 9,3 milliards d'eau en bouteille sont consommés chaque année 
en France. À
 Paris, l'eau du robinet est même une des meilleure au monde, mais seuls 39% des parisiens 
la boivent au 
quotidien. Puisque les arguments rationnels ne suffisent pas, c'est en empruntant des codes 
au monde 
de 
l'art et de la mode que la campagne de communication et la nouvelle identité d'Eau de Paris compte 
redonner 
envie aux parisiens d'ouvrir leur robinet. Un geste simple pour une avancée écologique majeure.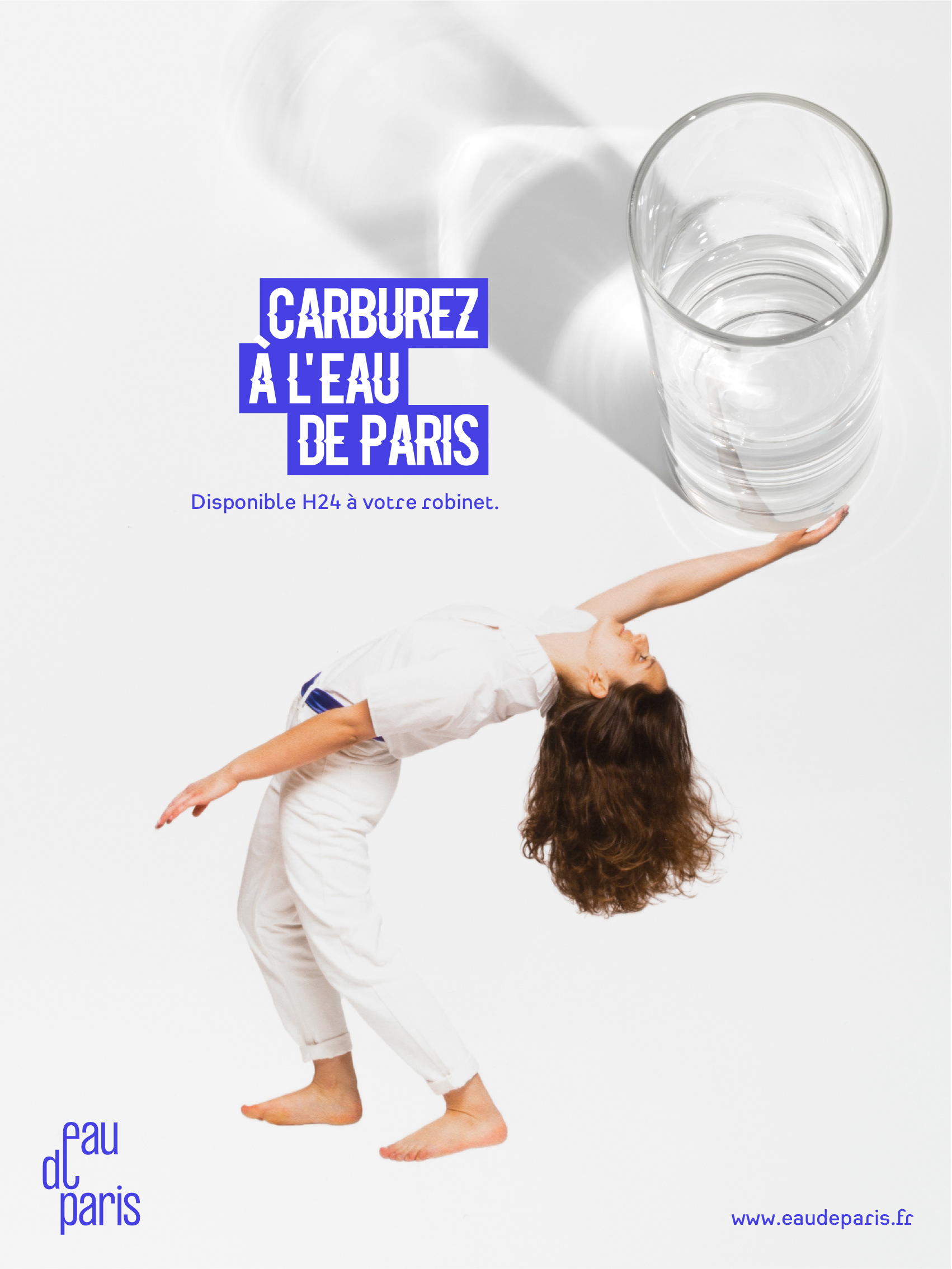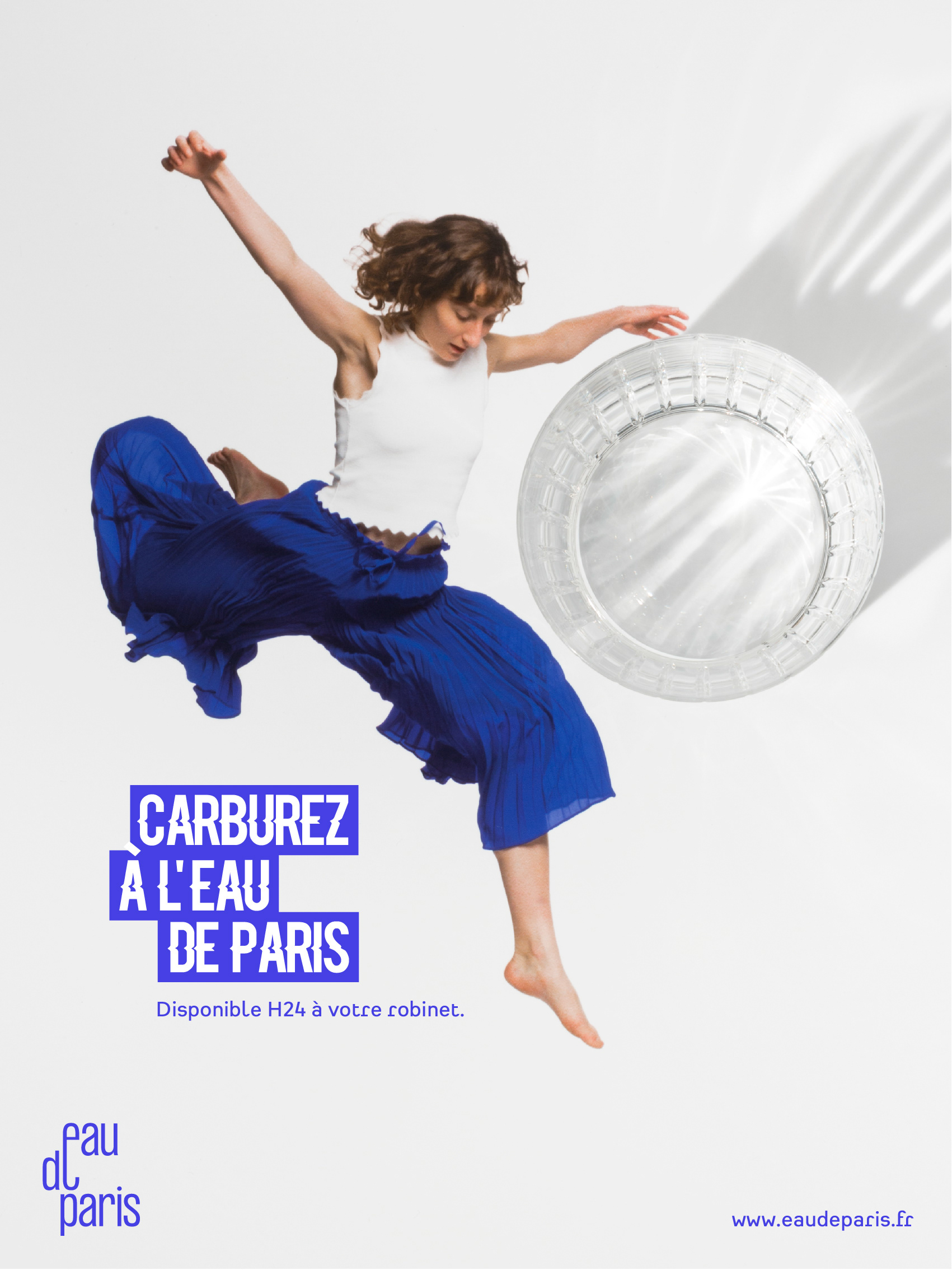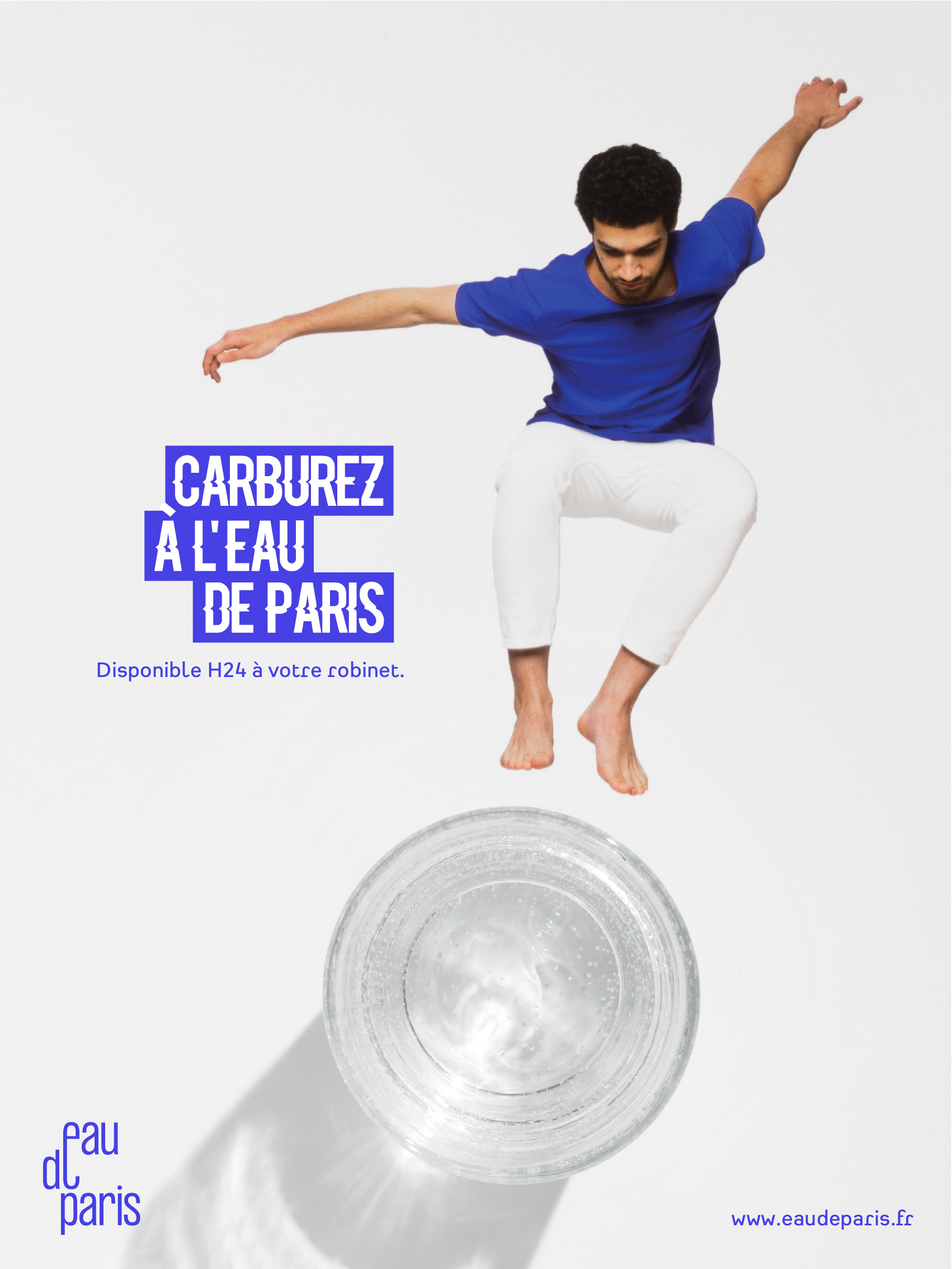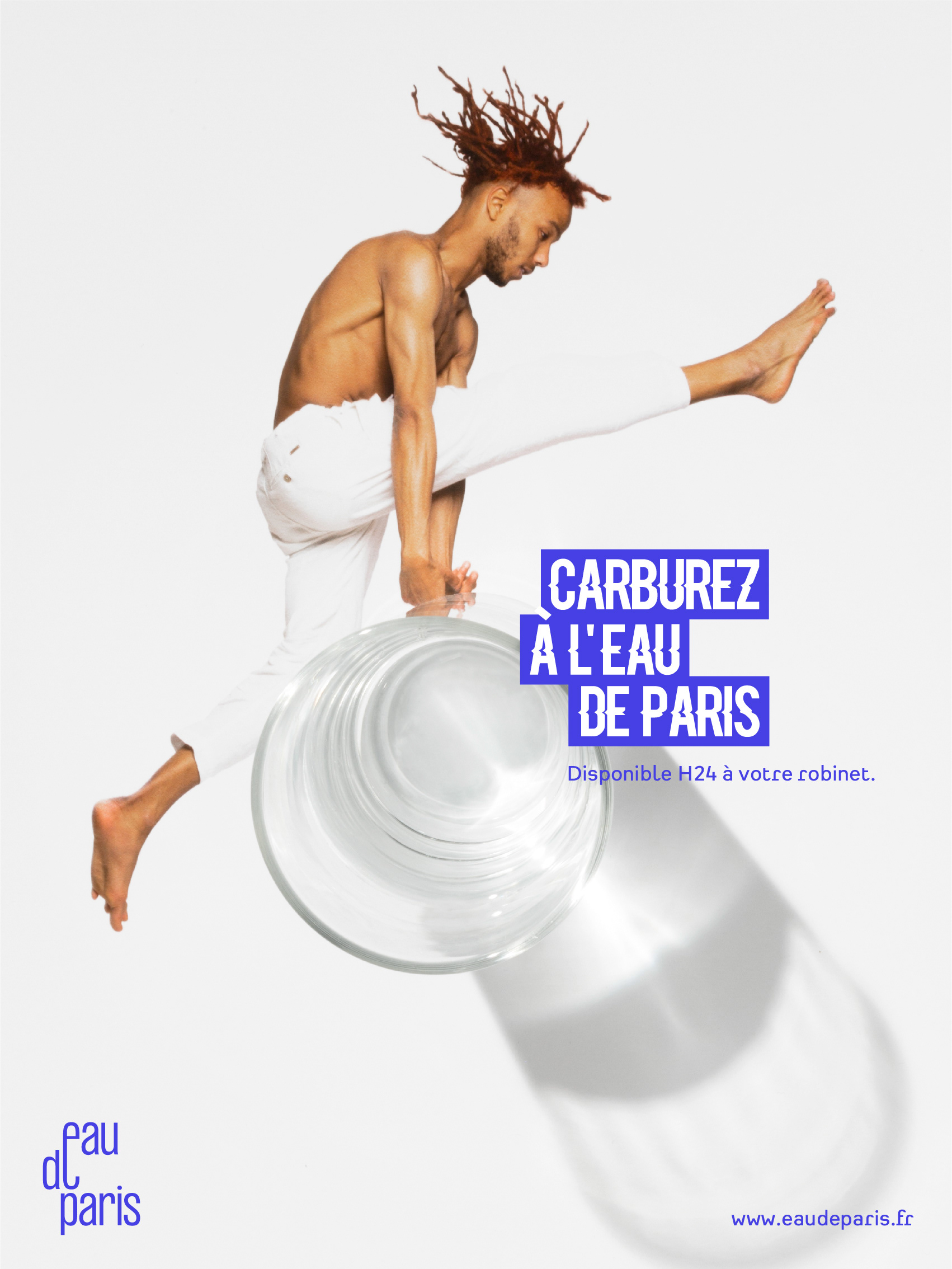 The posters offer a transcended vision of the glass of water, which becomes a symbol. Drinking tap water of Paris is no 
longer a random act, it becomes an attitude. The provocative claim, assimilating water to a fuel, implicitly encourages to think 
over one's way of living. Borrowing this oxymoron for such a pure product, Eau de Paris becomes known through its daring.
Les affiches proposent une vision transcendée du verre d'eau, qui devient symbole. Boire Eau de Paris n'est plus 
un acte anodin, c'est une attitude. L'accroche provocante, assimilant l'eau à un carburant, incite en creux à repenser son 
mode de consommation. En empruntant cet oxymore pour un produit si pur, Eau de Paris se révèle par son audace.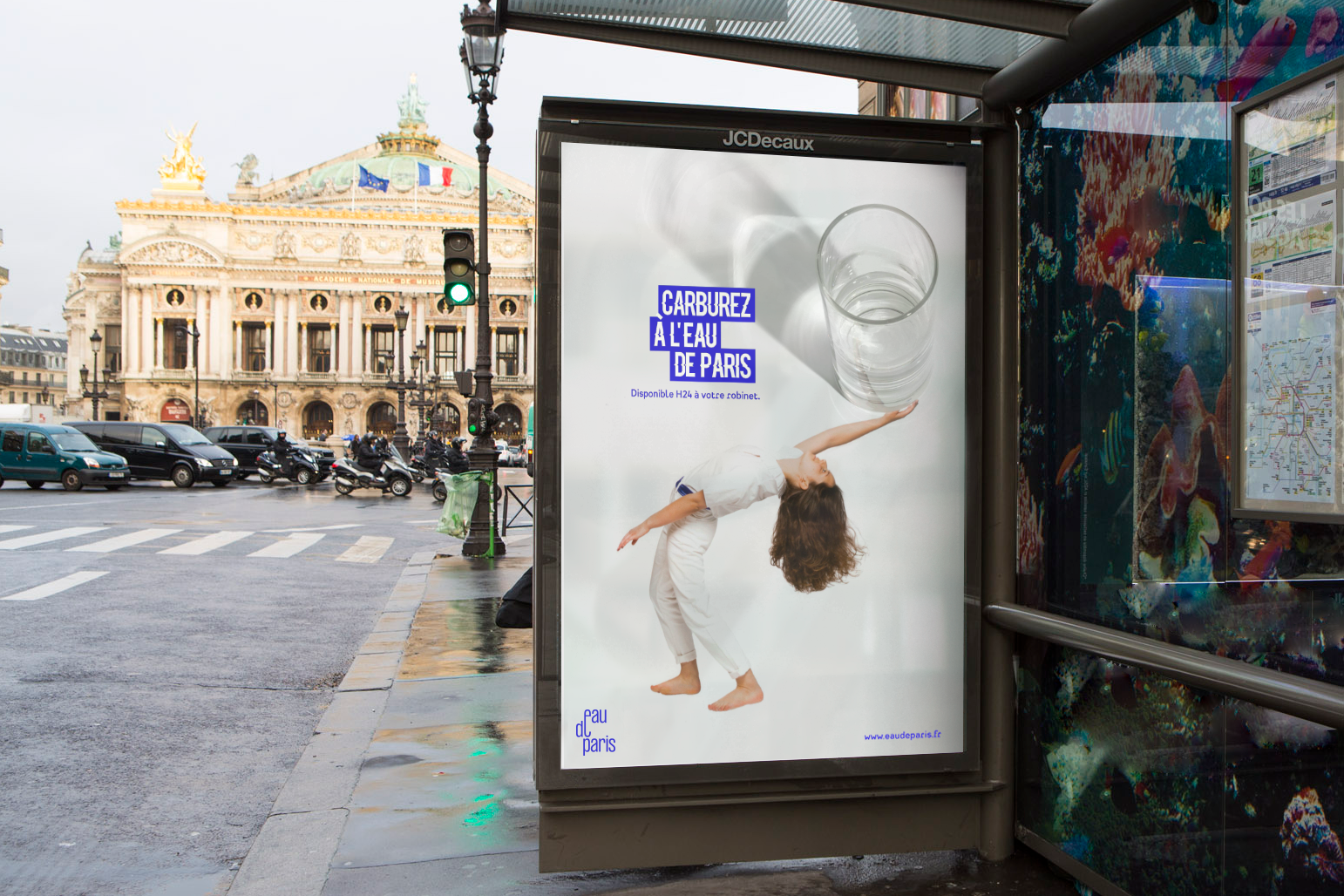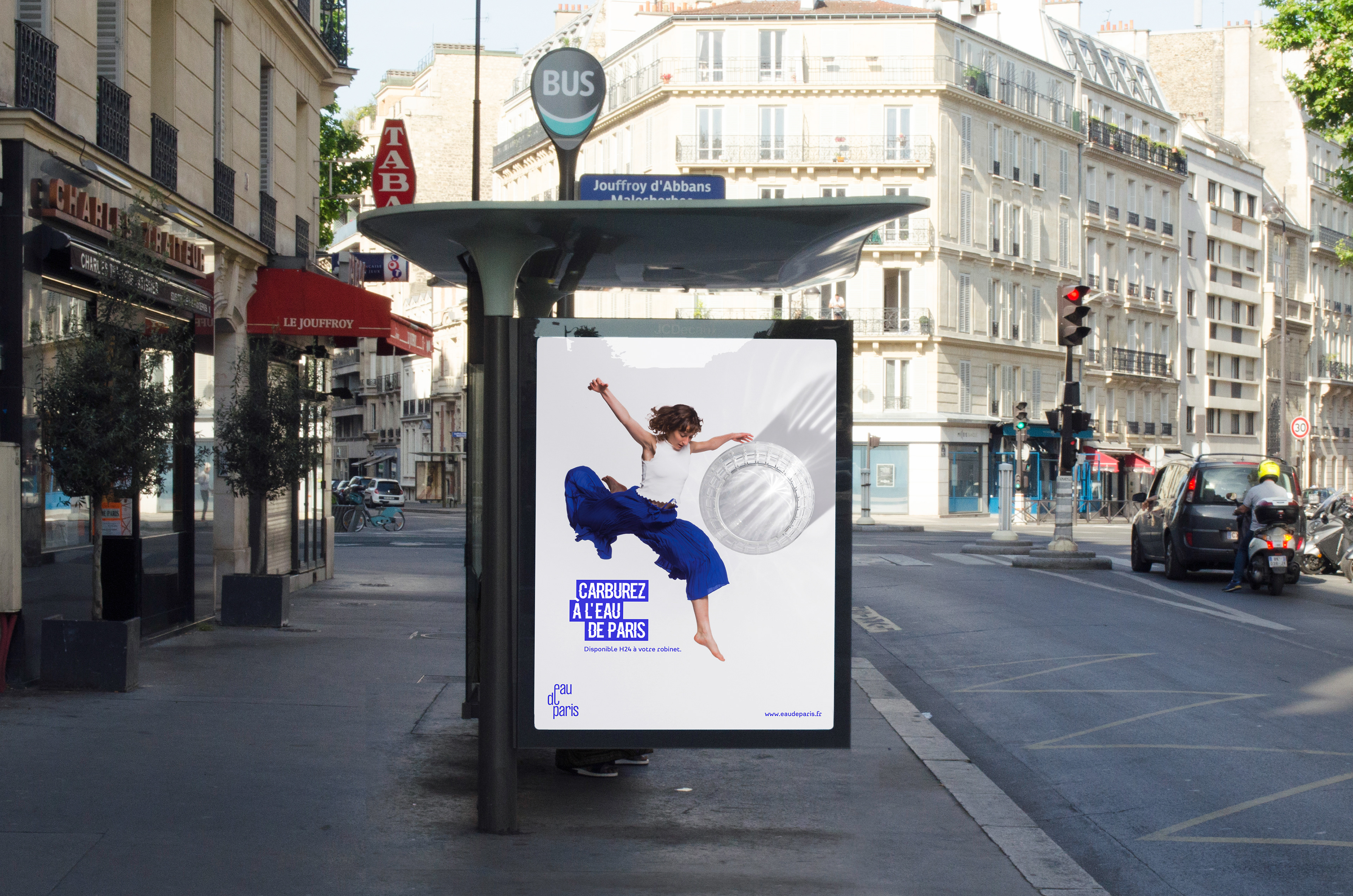 Revealed in the film, the effect of Eau de Paris on the body and soul 
appears like an electroshock, a life shot, a drink which allows pulsions. We encourage 
Parisians to change their fuel, to choose a better one for their health and for the planet. 
The invitation is clear, blunt, direct: « CARBUREZ À L'EAU DE PARIS» («Run on Eau de Paris»)
Dévoilé dans le spot publicitaire, l'effet de l'Eau de Paris sur le corps et l'esprit 
apparait 
comme 
un 
électrochoc, 
une décharge de vie, une boisson qui laisse place aux pulsions. 
Nous incitons 
l
es 
parisiens 
à changer 
de carburant, à choisir un carburant meilleur pour leur santé, 
meilleur pour la planète. 
L'invitation est claire, nette et directe :

"CARBUREZ A L'EAU DE PARIS"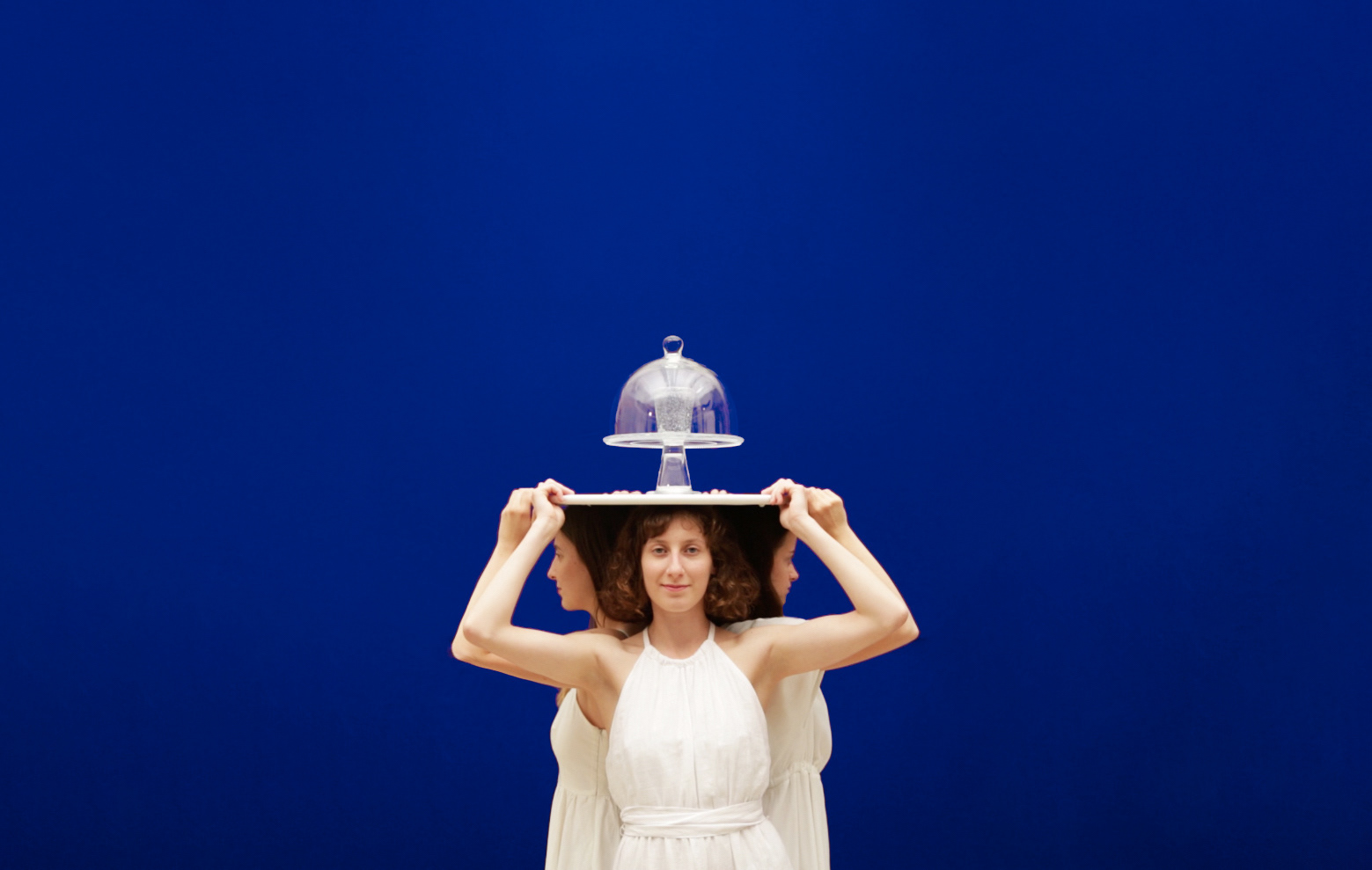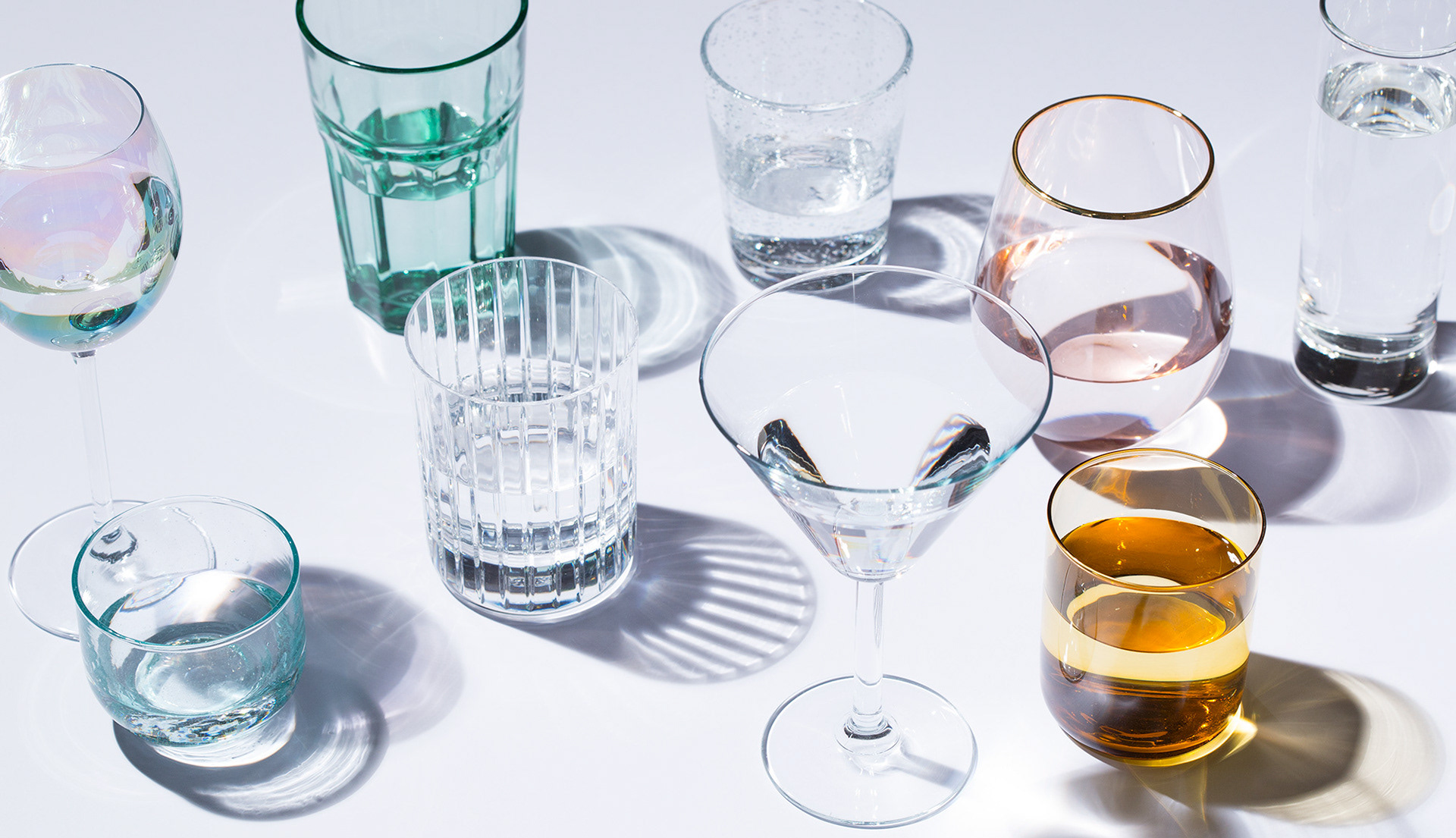 Because acts are stronger than words and prejudices are well fixed, we prove to 
Parisians that Eau de Paris is the water made for them, highlighting its main qualities 
(health, accessibility, ecology and almost free of charge)

 through tangible actions : 
Puisque les actes sont bien plus forts que les mots et les préjugés bien installés, nous prouvons 
aux parisiens qu'Eau de Paris est l'eau faite pour eux en mettant en avant ses principales qualités 
(santé, accessibilité, écologie et quasi gratuité)

 dans des actions tangibles :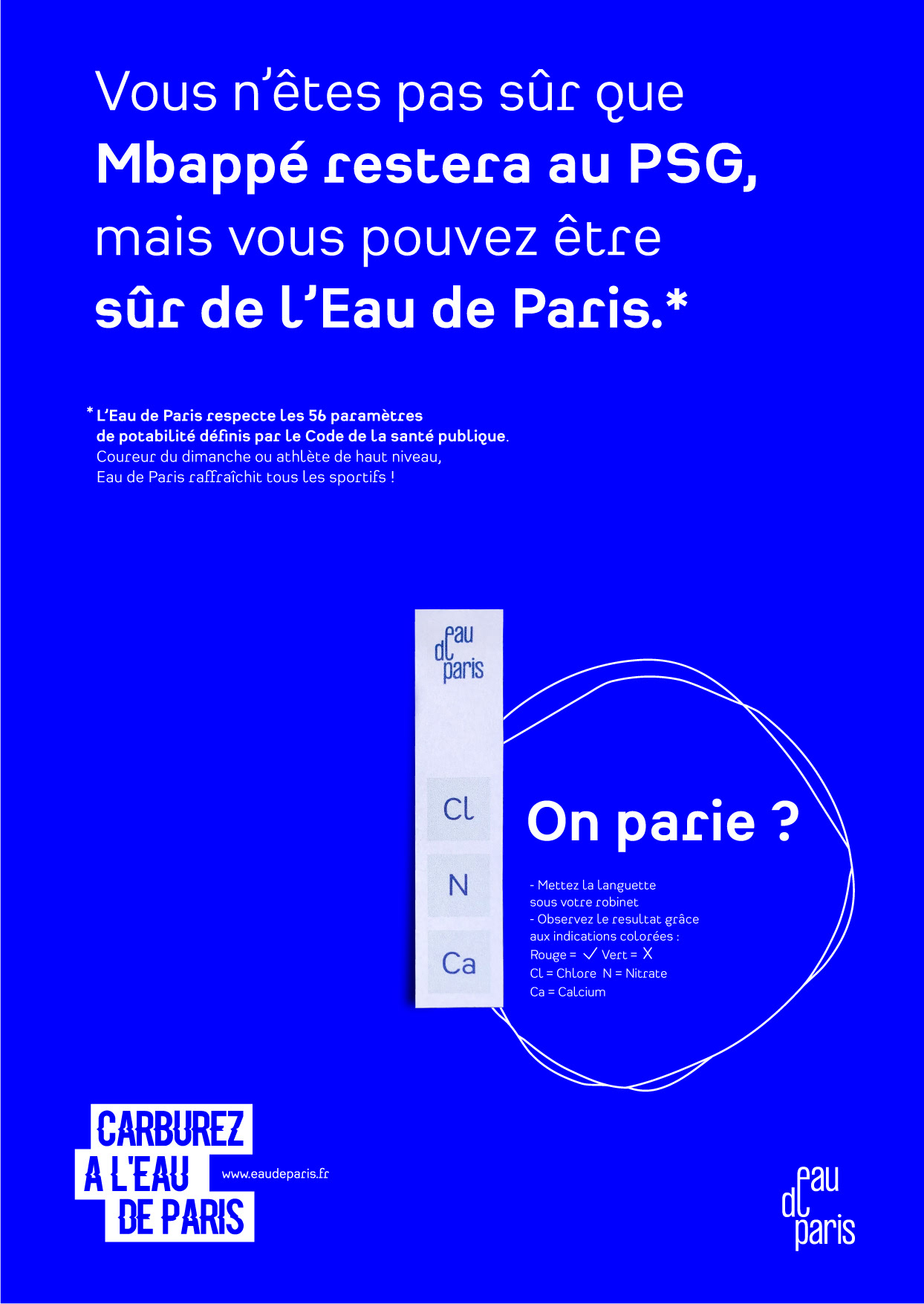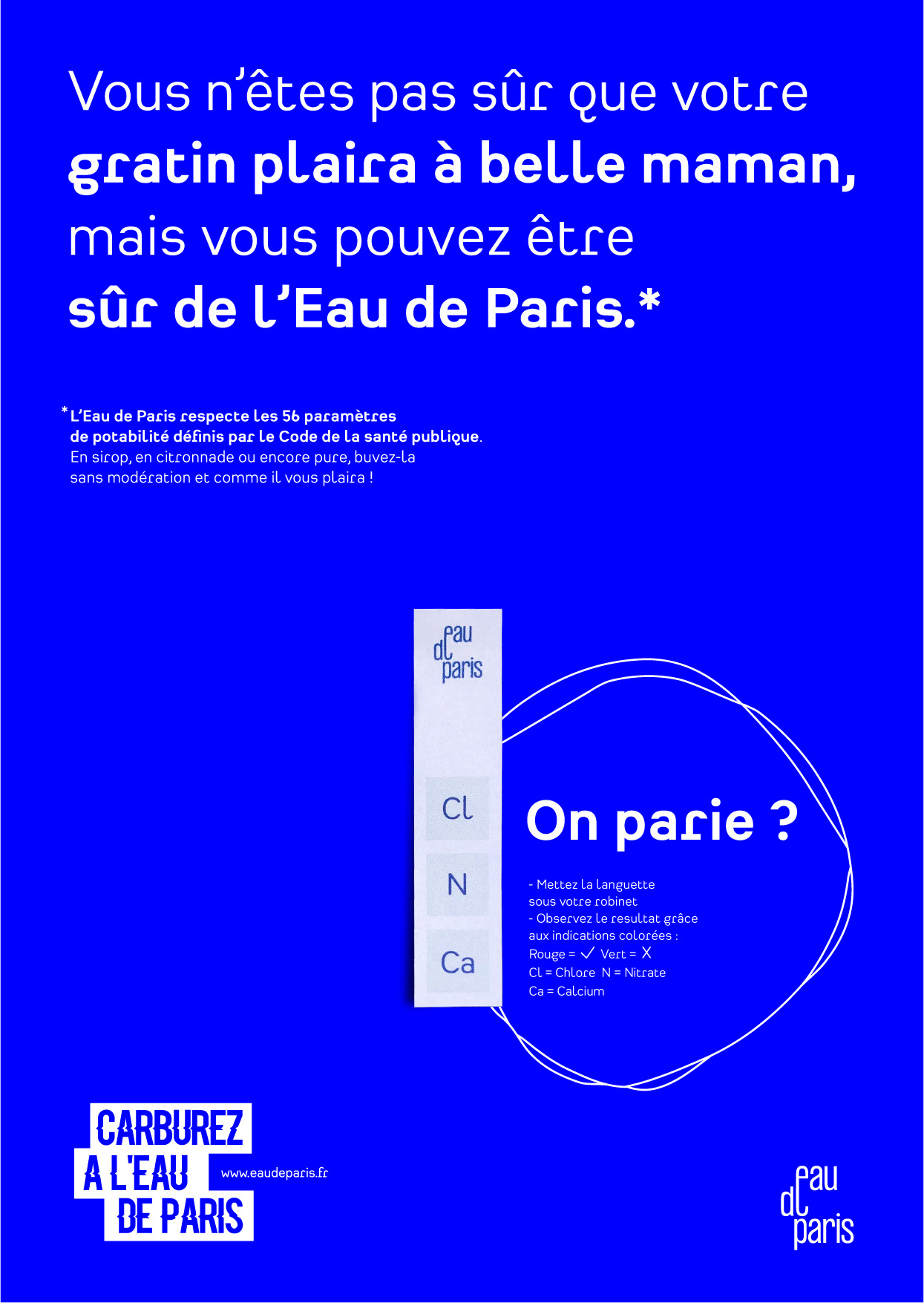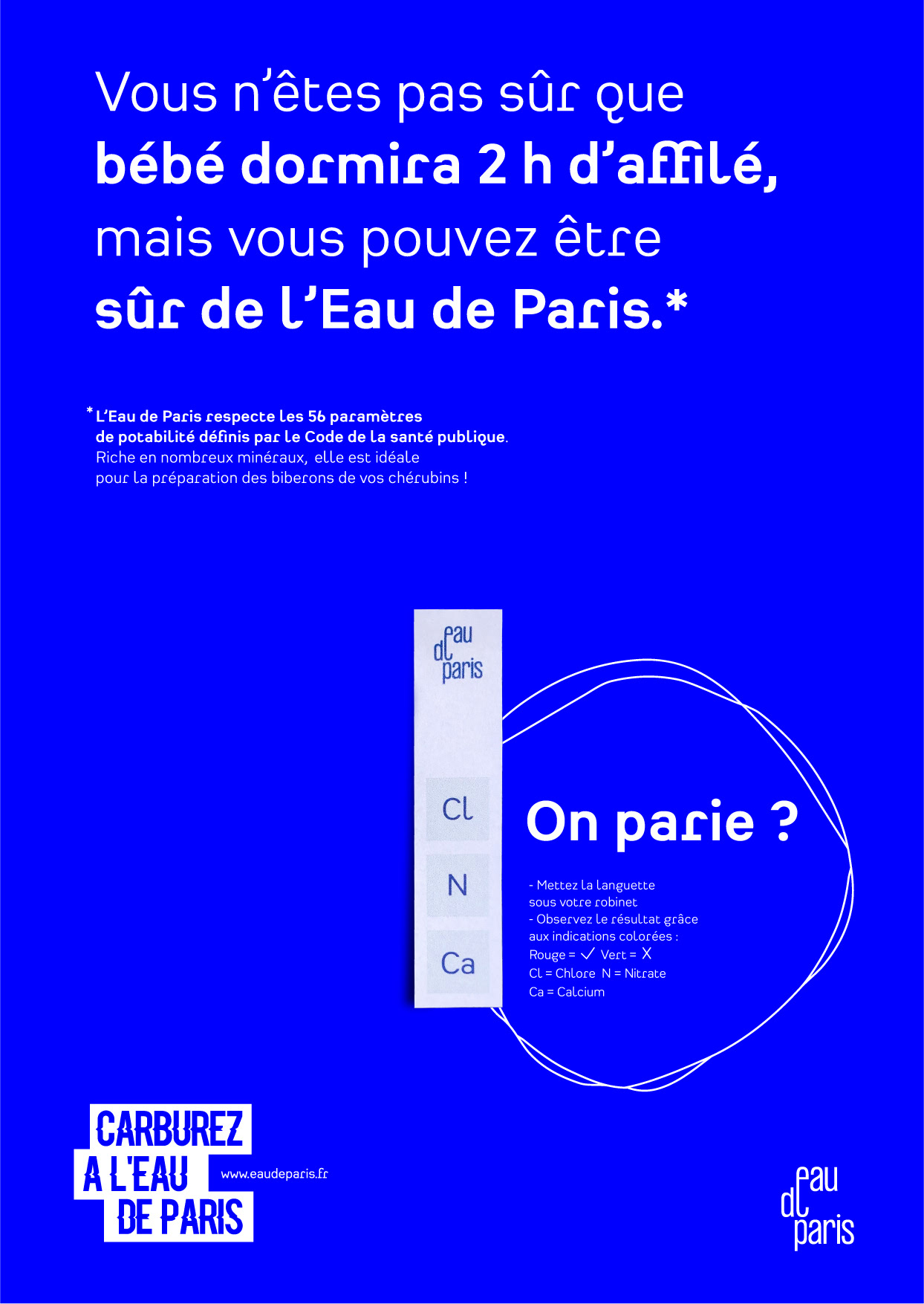 A pull-out test to check instantly the quality of tap water is inserted in newspapers' ad 
in 3 Magazines: L'Equipe (Sports), Cuisine Actuelle (Cooking) and Parents. To catch attention 
of the readership, the baseline is adapted to each mag with a true and sarcastic tone:
L'Equipe

: "You are not sure Mbappé will stay at the PSG, but you can be sure of Eau de Paris"
Cuisine

: "You are not sure your gratin will be liked by mum-in-law, but you can be sure of Eau de Paris"
Parents

: "You are not sure that baby will sleep 2 hours in a row, but you can be sure of Eau de Paris"
Un test de qualité détachable pour tester instantanément la qualité de son eau est inséré dans 
des annonces presses contextuelles. Afin de capter l'attention du lectorat, la baseline s'adapte 
à chaque magazine (L'Equipe, Cuisine Actuelle et Parents) avec un ton vrai et sarcastique.
2/ "ACCESSIBILITY" & "ECOLOGY" ACTIONS: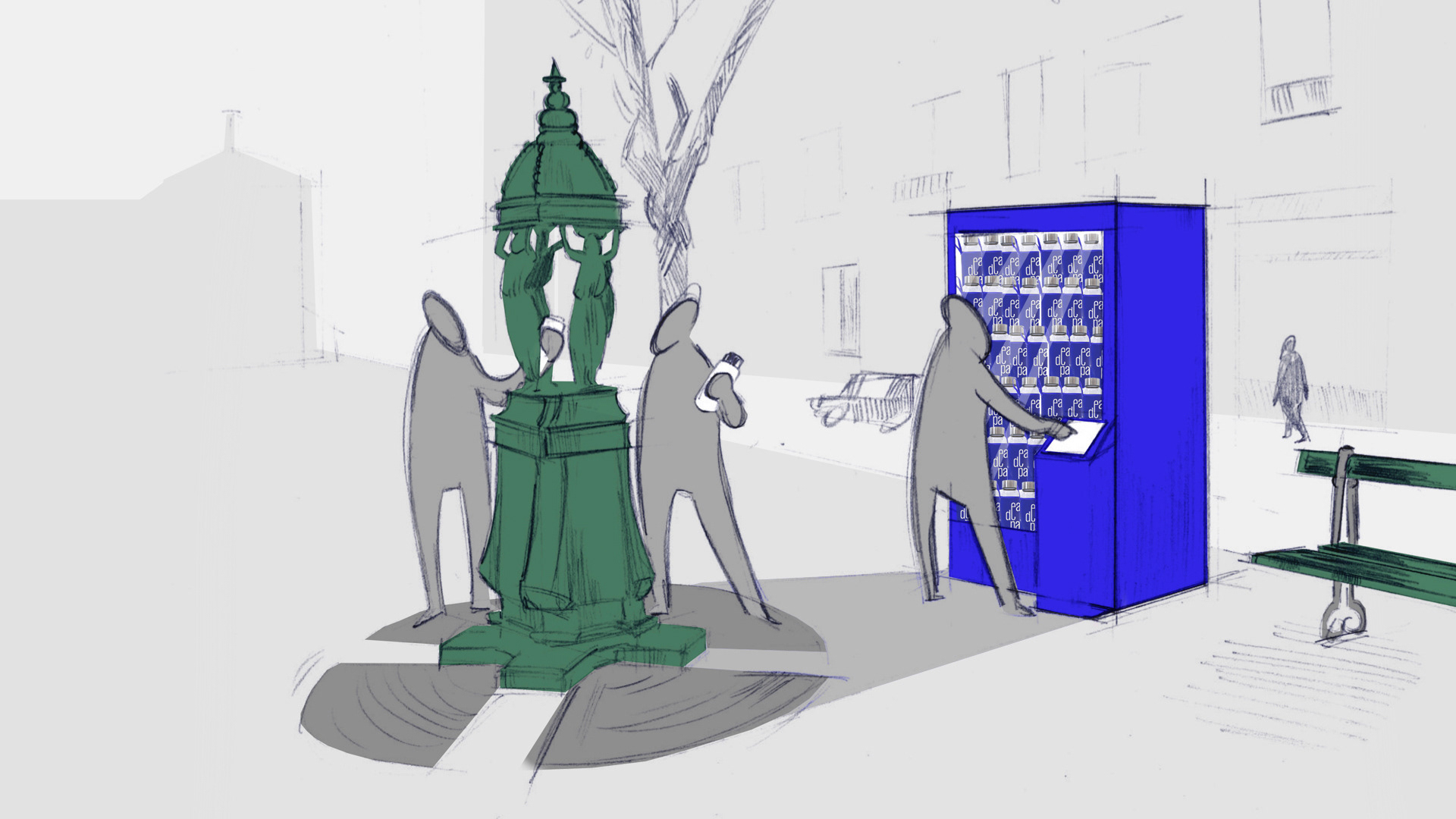 Some free flask distributors are located close to Parisian fountains during a street-marketing operation. 
The Eau de Paris's Flasks, customized by arrondissement, wears the adresses of its district's water fountains.
Flasks are then available (free pricing) on eaudeparis.fr and profits are donated to the Oceanoplastic association.
Des distributeurs de gourdes gratuites sont disposés près de fontaines parisiennes lors d'une opération de street-marketing. 
Les gourdes Eau de Paris, personnalisées par arrondissement, portent les adresses des fontaines de leur quartier.
Elles sont ensuite disponibles à prix libre sur eaudeparis.fr et les bénéfices sont reversés à l'association Oceanoplastic.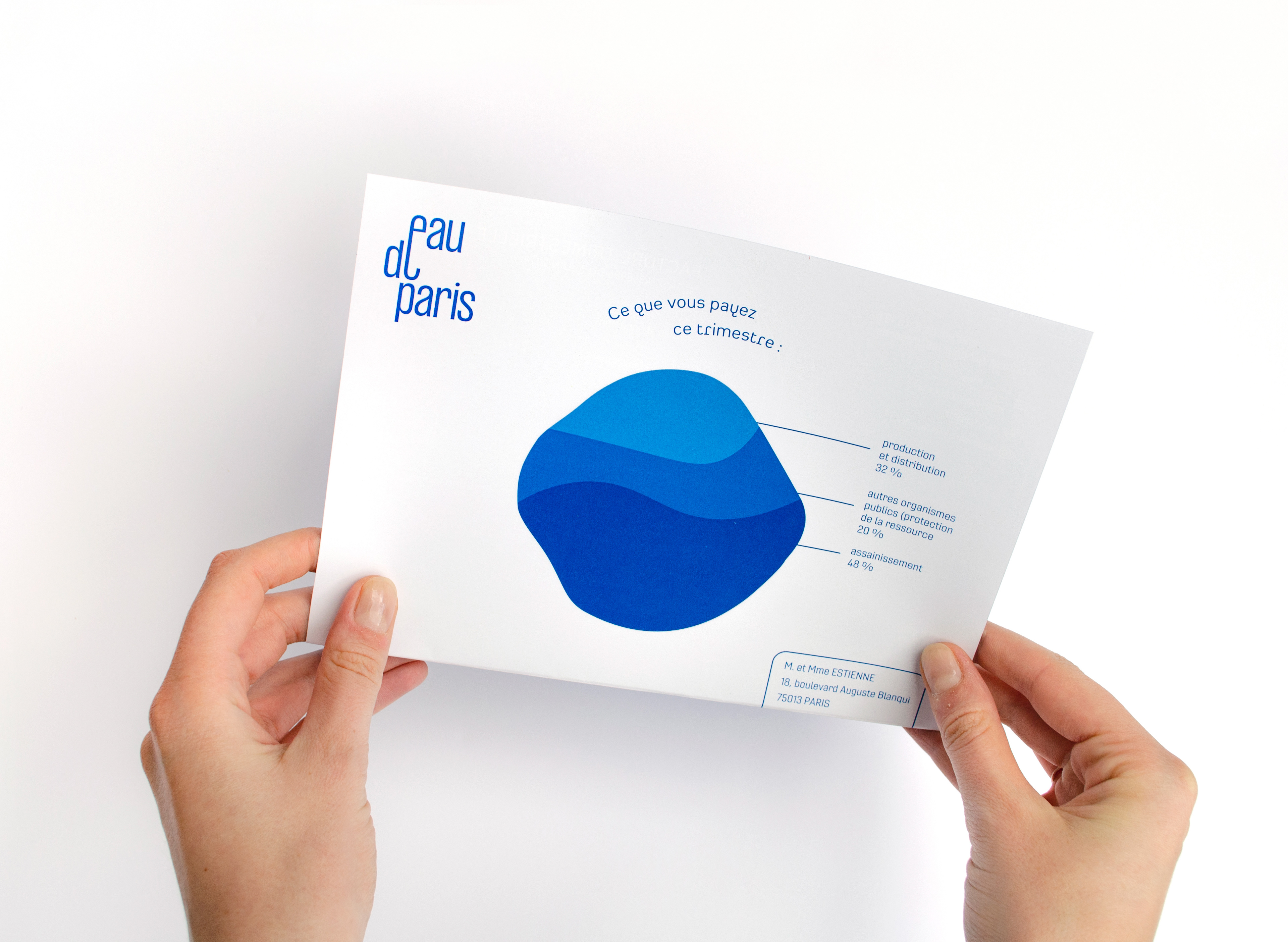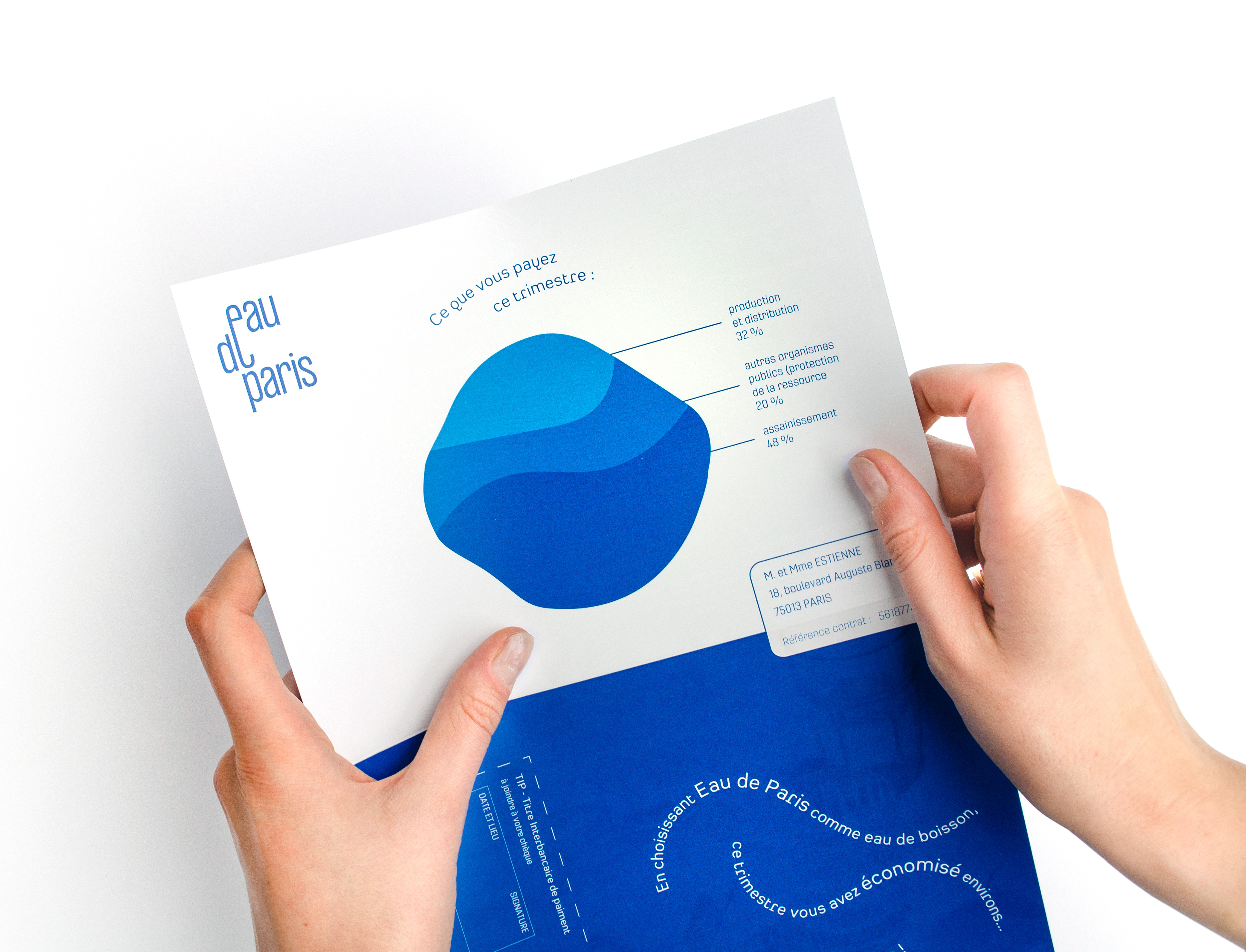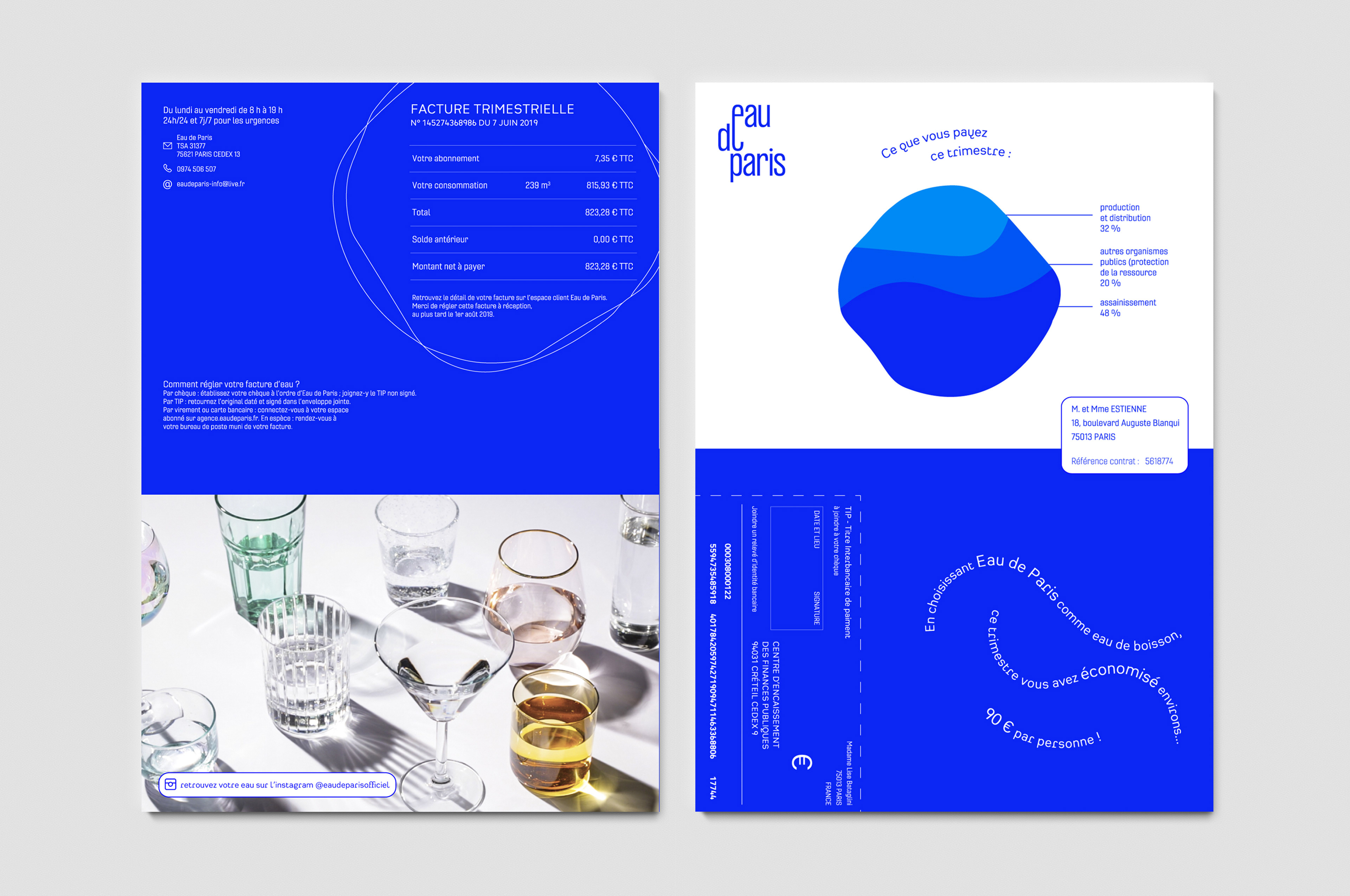 In order to be introduced within Parisians' households, the water bill is completely rethink, from design 
to informations. We can now discover the savings generated when not buying plastic bottled water and the 
secondary information are moved to the website, allowing a reading more simple and more understandable.
-
Afin de s'insinuer jusque dans le foyer des parisiens, la facture d'eau est complètement repensée, de son design 
à ses informations. 
On peut désormais 
découvrir les économies générées sans l'achat de bouteilles en plastique 
et les informations 
secondaires sont déplacées sur le site permettant une lecture plus simple et plus accessible.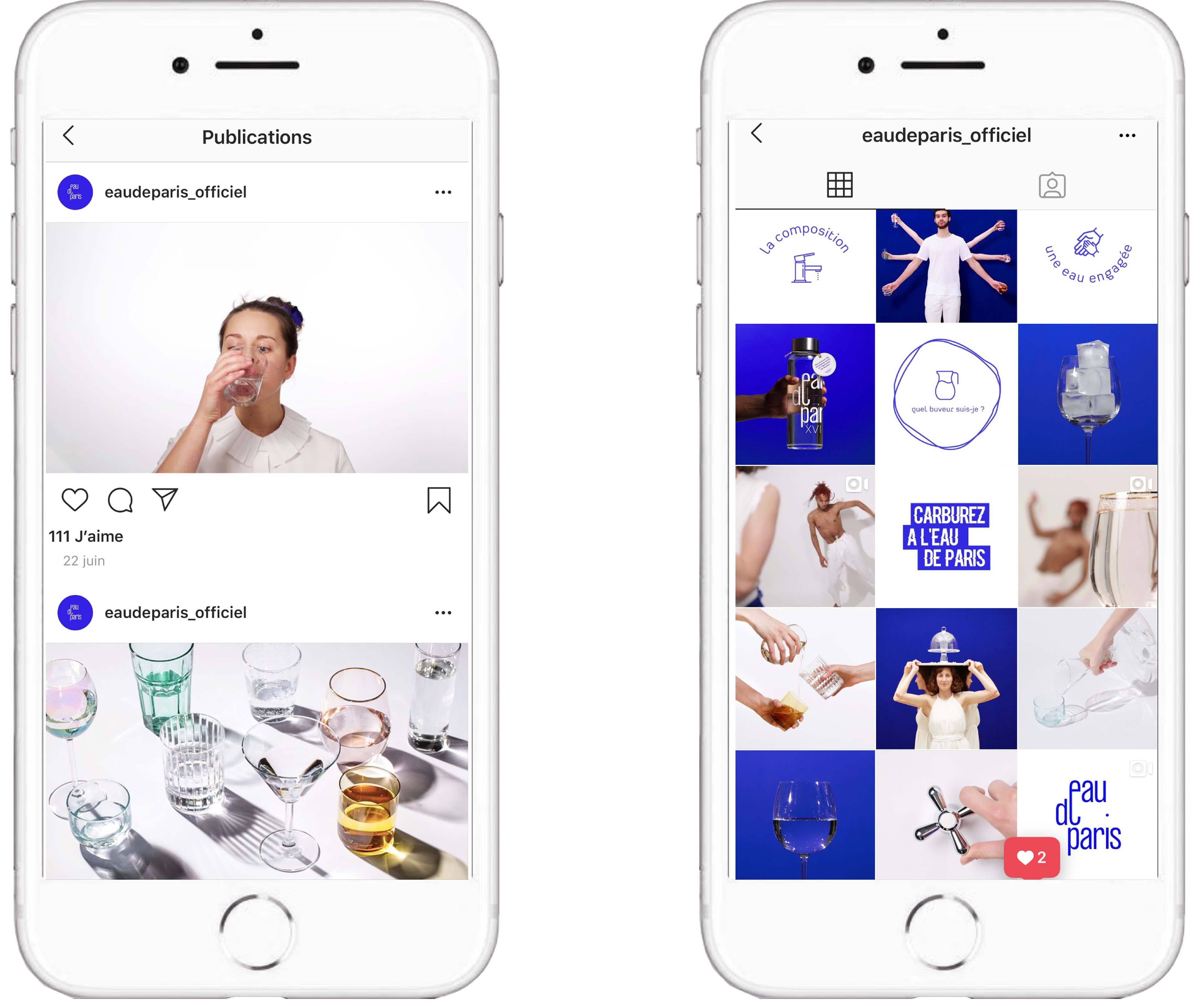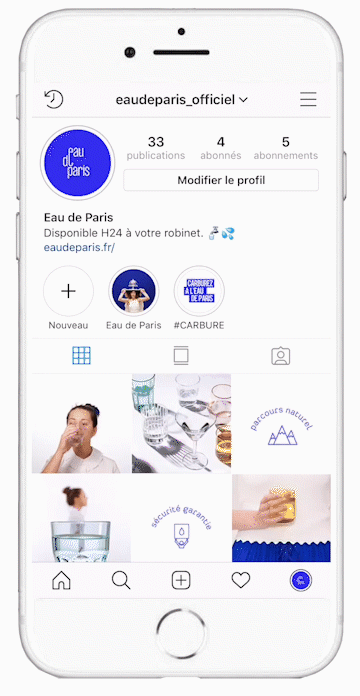 The universe of the campaign and the new identity spread-out on the website, on the «Eau de Paris» app and on Instagram. 
And because Parisians never drink coffee without a glass of water, our identity is also present in the typical cafés of the city.
L'univers de la campagne et la nouvelle identité se déploie 
sur 
le site et l'application « Eau de Paris », ainsi que sur Instagram.
Et parce que les parisiens ne boivent jamais leur café sans verre d'eau, notre identité est aussi présente sur les tables de bistrot.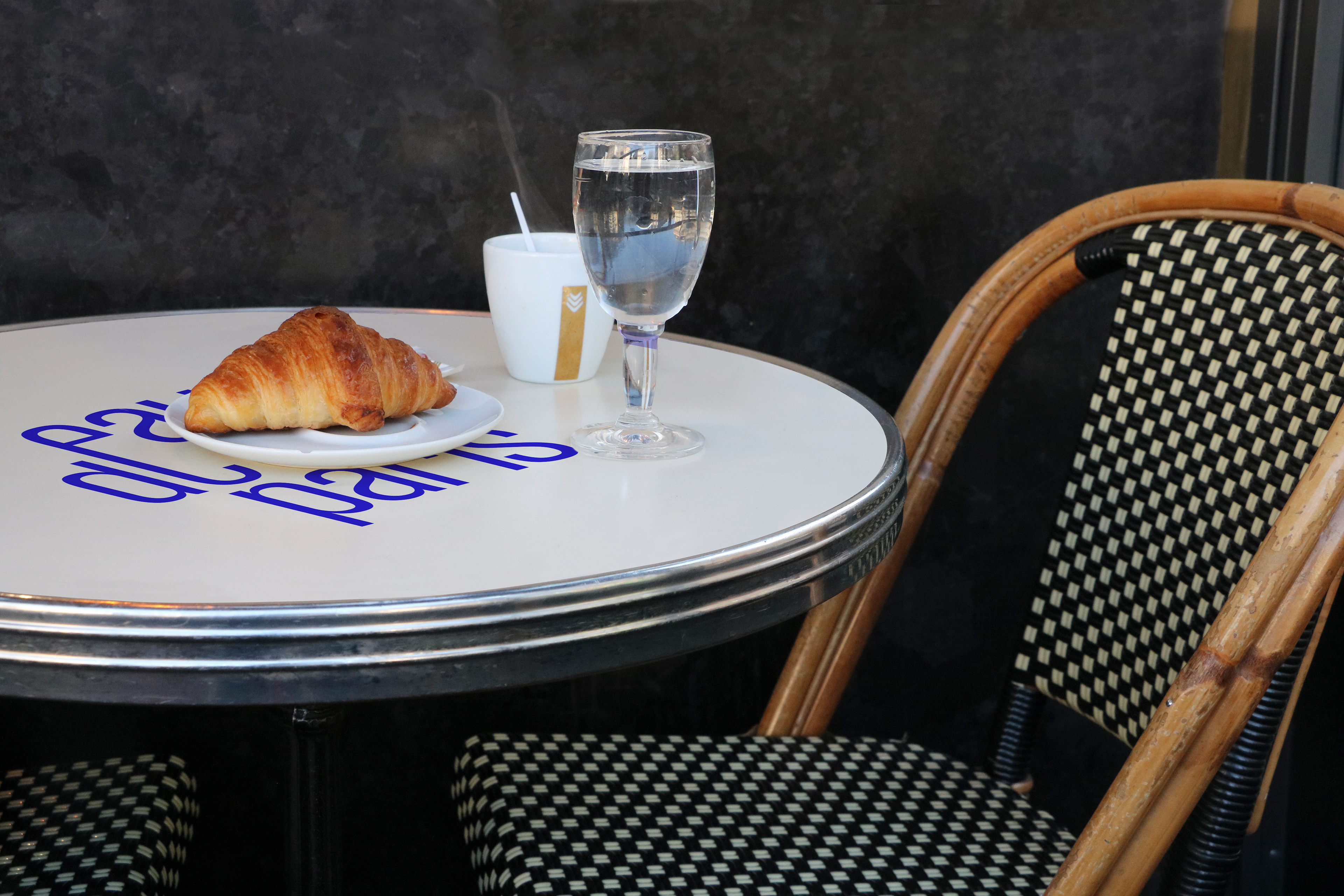 This project has been carried out together with 
Romane Réauté, Manon Lebreton and Clarisse Talleux. 
Photography collaborator : Michèle Garrec.